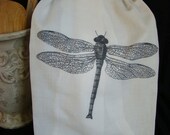 Love this large Dragonfly Image, so classic and good looking. The flour sack towel will soon become your new favorite, lint free and softer with each wash. Flour sack towels replace paper towels so you're saving the earth as well!
Nice 30 inch x 30 inch size, machine wash/dry. If you want to make it look new, press on the back side of towel and presto, crisp and new.
Custom printed, this listing is...
Click Here to Visit My Etsy Shop!