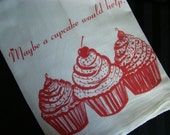 Maybe a cupcake would help. Cupcakes make everything better and your day a little brighter. My new cupcake design features three yummy looking cupcakes, printed in red ink on a soft flour sack towel. I have hand drawn the design so you will never see this towel any place else.
Flour sack towels are pretty to look at, softer with each wash and lint free.
The perfect gift for a friend or co-worker...
Click Here to Visit My Etsy Shop!