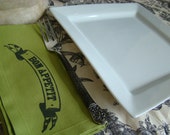 Bon Appetit! Celebrate Good eating in style and save the earth by using cloth napkins. These super nice, custom printed, Bon Appetit napkins are just the ticket. Crisp dark apple green color with black printing will make your table pop with color. You won't see these great custom printed cloth napkins anywhere else but here at Sweet Bohemian Life.
4 cloth napkins
17inches X 17 inches
...
Click Here to Visit My Etsy Shop!